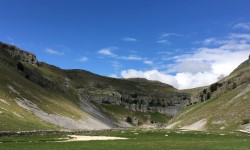 West Yorkshire is a central county, with areas of upland moors and the iconic mill towns like Hebden Bridge.  It is this beautiful countryside where the Bronte Sisters who grew up in the quaint town of Haworth and were inspired by its scenery, to write novels that have become English classics.  It has a history of coal, wool and iron industries, some of which still thrive to this day.
The Yorkshire Dales National Park in North Yorkshire is famous for wonderful scenery, historic sites, and unspoilt tranquillity. With deep valleys, known as dales, roads meandering between drystone walls and a patchwork of hay meadows and field barns.  Up above is heather moorland and distinctive hills, such as the much loved Three Peaks. There is the Settle to Carlisle railway which cuts through the National Park using tunnels and viaducts, including the iconic Ribblehead.  Popular destinations such as Malham Cove and Gordale Pike are only a couple of locations that draw walkers and day-trippers from all over the world.
The South Pennines contain the cotton towns of Lancashire and the woollen centres of Yorkshire. Between them lie windswept moors of millstone grit and rolling peat moor-land. A characteristic feature of the area is its ancient network of packhorse trails, the old trade routes.  The earliest date back to Anglian and Saxon times, when salt for curing meat was brought from Cheshire over the rough moorland tracks.