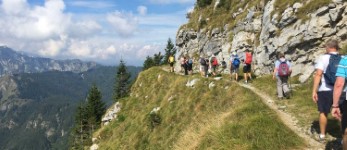 Slovenia shares borders with Hungary, Austria, Croatia and Italy. It is one of the newer members of the EU, having joined in 2004.
The spectacular mountains in the Julian Alps are predominantly limestone, and their jagged form produce stunning vistas wherever you look. The area is softened by beautiful, tranquil lakes in the valley bottoms and also amongst the rocky crags.
The country has a proud reputation for cleanliness, and self-sufficiency, so you will find many small allotments for vegetable and fruit growing in most gardens. The Slovenes are a welcoming people, friendly and outgoing. They want you to explore their superb countryside. Walking is a national hobby - why wouldn't it be when there is so much grand scenery to explore. Their other national pastime is eating, and they have excellent Slovenian wine.
Walking is most suitable from May to October in these hills, and temperatures can be hot in the valleys in July and August, though higher up cool breezes are a help. Ljubljana is the capital, and the airport are an easy ride to the best walking.
The Slovenian people will welcome you to their magnificent country, rest assured.