Madeira Once visited, never forgotten 
Do you want a holiday that is adventurous and romantic, that's completely unique and different, and yet, one that's totally unforgettable and exotic? Madeira's just the place. With fuchsia, Bougainvillea, scarlet Poinsettias and lilac Jacaranda trees blanketing the landscape in quilts of exotic blooms throughout the year. It is famous for its balmy summers and warm winters making it the ideal holiday destination all year. Madeira has two sides, north and south, separated by a mountainous spine. The south warm and sunny, whilst the north a little cooler and wetter.
Its capital city, Funchal has over the years retained a charm of its own with whitewashed colonial buildings, 15th century churches, picturesque squares and relaxing promenades.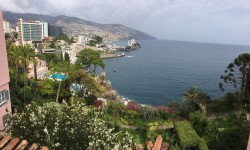 The narrow back streets of the old part of the town are packed with tavernas, the contrasting Marina has a more cosmopolitan vibe, with its' pavement café's and excellent seafood restaurants specializing in freshly grilled lobster. The Madeira Botanical Gardens set high above Funchal is easy to reach by car, bus, or the preferred method of the Teleférico Cable Car. Connecting the Gardens with the old town of Funchal, the cable car floats over gorges and hillsides with stupendous views on offer. For the energetic and adventurous Madeira offers endless opportunities from mountain walking, hiking to para-gliding.
Madeira is an island of fascinating natural beauty, rising steeply in splendid isolation from the Atlantic Ocean, off the coast of Africa. The island is of volcanic origin, and has a network of Levadas (water channels) that take water to irrigate the fertile soil in the south of the island. The Levadas are now Madeira's prime walking territory and cover 2,000 kilometres, providing a natural network of routes encapsulating stunning countryside.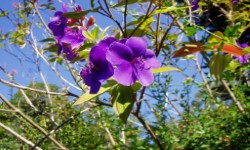 The islands of the Madeira Archipelago not only have beautiful seascapes but have an abundance of marine wildlife.  It is also a walking paradise and Madeira will surprise you, even enchant you. Flowers abound, a riot of glorious colour at every turn, and Funchal is a joy with its squares, historic buildings and magnificent trees everywhere.