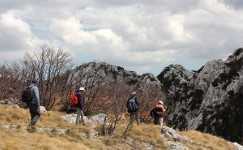 Croatia

- The land of a thousand islands
We have chosen the island of Brac because its big enough to have a variety of walks - yet small enough to give that feel of a special place - and with that sparkling sea always close by.
The history and heritage of the island are part of our experience as we walk along trails by the sea and in the interior. Limestone dazzles you, its pure white - and we do have lovely views of other islands as we walk.
The routes for our walks are mostly along tracks or rural roads; sometimes on paths (some can be rocky due to characteristic limestone). Our routes take you to some of the best viewpoints on the islands, offers plenty of swimming opportunities and the chance to experience the beautiful, rustic nature of these Croatian Islands.