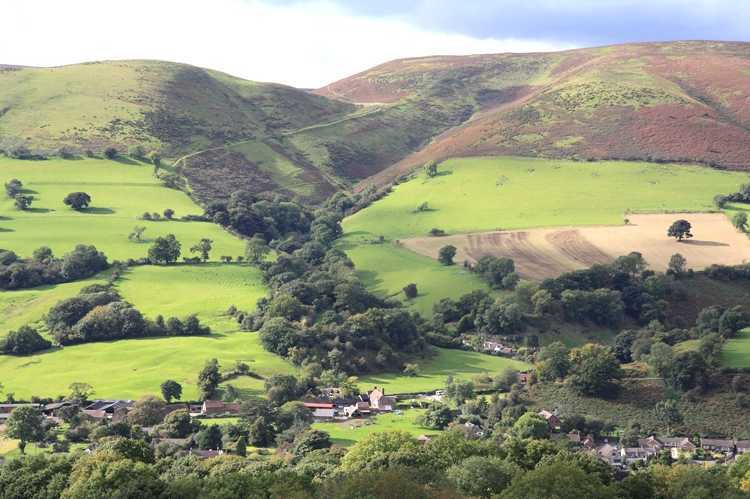 The Shropshire Hills are a genuine secret, unbelievably quiet and still relatively undiscovered compared to other popular walking areas.  From the top of the Long Mynd, you get a 360-degree view to the Welsh coast, far out over the Cheshire plains, the Peak District, The Malvern Hills and even the Black Mountains.
You'll see plenty of sheep quietly grazing the hills, a herd of Shropshire wild ponies and their cute foals. Depending on the time of year, you will see glorious swathes of deep purple heather on the upland moors or the amazing golden shades of autumnal bracken on the hillsides, but what you won't see are hordes of people… this is a quiet land.
Shropshire Hills boasts an Area of Outstanding Natural Beauty, the first "Walkers are Welcome" town in the Midlands, a "Fairtrade Town," and some of the oldest rock formations in existence.
Church Stretton and its picturesque surrounding villages form an excellent base for the country lover and sportsman alike. The Long Mynd rising above the west of the town is renowned for gliding, and boasts the second highest golf course in England. The beautiful countryside, with its wild uplands and breath-taking views, feature in the books of Mary Webb, A E Housman and Malcolm Saville.
It's not just the stunning scenery that will captivate you, but the people and places, its history and heritage, the walking and wildlife, its food and festivals. Combined they offer magical experiences. Such magic is best summed up by the Independent newspaper review in 2009 which claimed Church Stretton to be "England's ultimate retreat".
The Shropshire Hills Area of Outstanding Natural Beauty is one of Britain's finest landscapes. The limestone escarpment of Wenlock Edge, the rugged volcanic rocks of Caer Caradoc and the rounded sandstones of the Clun Forest make this one of Britain's finest landscapes. 

This patchwork landscape includes the wide-open spaces of the Long Mynd, peaceful river valleys such as the Clun and the Onny, the craggy Stiperstones and Clee hills and the wooded beauty of Wenlock Edge and the Wrekin.  This variety of hills, crags, scarps and valleys forms the character of this lovely area.