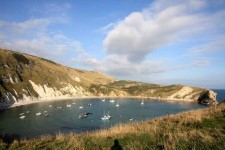 Dorset and Devon's Rolling Hills and Coast
With its spectacular Jurassic Coast, rolling hills, beautiful beaches, historic houses and gardens, ancient castles and forts, idyllic villages and charming market towns, Dorset and East Devon is truly unique. Quiet country lanes and a network of footpaths and green lanes make it an ideal walking destination. The magnificent coast is never far away, views to die for.
We walk from the lovely seaside resort of Sidmouth, famous for family holidays, an annual folk festival and a balmy climate. We walk partly on the South West coast path as well as in the hinterland of the town- but the sea is a constant presence. Rolling hills and deep river valleys make the walking very pleasant. A real treat.