Mallorca - Soller circular via Pujol den Banyo
Port Soller to Soller via the Pujol den Banyo path above Soller – By Alan Garner
This walk shows off the best of the scenery around the Soller Valley- from the sea scapes around the lovely port and Soller bay to the lemon and orange groves above the old historic city of Soller.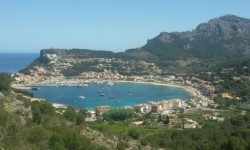 The walking is on excellent paths the ascents are comfortable for most walkers. There is an alternative return from Soller to Port Soller shown also.
We start in the centre of Port Soller- and make our way along the broad promenade, and along side the tram tracks to Soller. When these swings left, we cross the stream and pass in front of the Marina Hotel.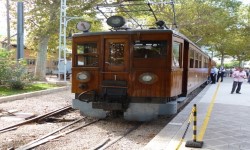 Our walk then follows the promenade in an arc until the road starts to go up hill. Follow the road all the way to the Cape Gros lighthouse.
After exploring round the lighthouse area, take the path that slowly ascends upwards mostly on rock steps and then onto earth paths that can be dusty in very dry weather.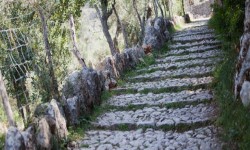 Eventually you find another branch of the GR221 long distance trail feeding in from the left at muleta gran. Join this path, again we ascend in an easy way passing Sa Roqueta on your left Keep to the broad GR221 path and enjoy the scenery both close by and in the distance with the Alfabia ridge to your left and the sea to your right.
The dirt track turns into tarmac. Reach the main Soller to Deia road, be careful it will be busy- and for 200 metres walk along it after bearing left. Follow the GR221 signs across the road past Caan Bleda on the left, and shortly come to the Castella -an old ruined church. - on your right- Continue forward – don't turn right - that follows the GR 221 signed Deia.
In about half a mile, avoid turning left and down but carry on rising slightly and past Cas Xorc, avoid any left turns and reach a stream and Can Paies
Continue forward – again don't turn left and you are on the Pujol den Banyo path above Soller, hear the trains, and eventually cross the rail line, turning left here.
Slowly descend along a lane until you meet the main road from Palma to Soller.
From here you can wander past the rail station and into Soller's squares and streets for a cool beer, ice cream of coffee.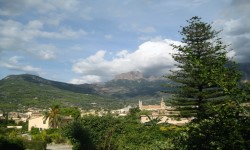 You have two choices here to return to Post Soller- you can walk, see below, or take the tram/taxi back.
If you decide to walk, then look out for the GR221 signs. At a roundabout keep left and follow the signs, eventually walking on a tarmac lane past lemon and orange groves. The path bends right over a small hill and heads for Port Soller – don't follow the GR221 when it turns of left – carry on signed Repic – the beach area – and you are back in Port Soller.
Total walk is 18 kilometres
Stop at Soller after 13 kilometres.
Links:
Port Soller
Soller
Trams between Port Soller and Soller
GR221 Long Distance Trail