Portugal's Algarve - By Alan Garner
The coast west of Lagos, as far as Sagres, remains one of the least spoiled parts of the Algarve, largely thanks to the Parque Natural do Sudoeste Alentejano e Costa Vicentina which prohibits large-scale building on the coastline west of Burgau. As a result, the resorts, certainly west of Luz at Burgau and Salema, remain largely low-rise and low-key. Most of the coast is linked by a craggy coast path and you can easily walk between the villages: Salema to Luz, or Luz to Lagos are beautiful routes.
The Western Atlantic coast also offers grand walking; beautiful sandy beaches and low-level cliff walks with the hinterland of pine and holm oak. On several of our walks we end up on the beach for lunch.

LAGOS is one of the Algarve's most attractive and historic towns, its centre enclosed with mainly fourteenth-century walls at the mouth of the Ribeira de Bensafrim. For all its historical significance, Lagos's main attraction is its proximity to some of the region's best beaches. To the east is the long sweep of Meia Praia, while to the west – from Praia de Dona Ana to Porto de Mós – you'll find the series of coves, caves and rock stacks for which the Algarve is best known.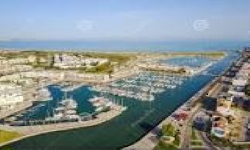 Much of Lagos was destroyed in the 1755 earthquake and Faro took over as capital in 1776. As a result the town went into a long decline, until tourism revived its fortunes in the 1960s. Since then it has developed into a major resort – though it also remains a working fishing port and local market centre.
Unlike many other resort towns, Lagos is an important city that is steeped in history, and the variety of historical monuments and buildings reflect this varied past. Fascinating buildings include the beautiful Santo Antonio church, the Mercado dos Escravos (Europe's first slave market) and the charming 17th century Bandeira Fort.