Our walking in Mallorca takes us through an undiscovered landscape, a rural idyll, a land of orange and lemon groves, where twisted and knurled olive trees are on every corner.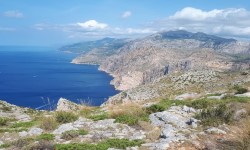 Mallorca offers a mountain landscape that sweeps down to the sea, offering us lovely coastal walking as well as the high tops. Its pretty, unspoilt villages compliment the walking we do, and its deep valleys are magnificent to walk up and down.
Mallorca's Serra de Tramuntana mountains are a great walking experience—on this holiday island renowned for its sun, sand and sangria, there is an area of peace and tranquillity, where the walking is superb. 90 km long and 15 km wide, the Tramuntana range gives a vast range of walking possibilities. The coastline is also very rugged, and this affords us tremendous sea views as well as mountain scenery. The limestone allows deep gorges and waterfalls, yet there are pine forests as well.