The Gower - By Simon Foster
Caves, King Arthur and Viking Warlords
Rhossilli Bay, southwest tip of the Gower Peninsula

The Gower has been inhabited for at least 33000 years. Its inhabitants have left artefacts and reminders of their presence. These include dozens of ancient monuments and hidden gems, often hidden right beneath your feet in subterranean spaces like Paviland cave and Tooth cave.
There are numerous mighty standing stones and monuments on Gower that give an insight into the history of this legendary landscape.
Gower or the Gower Peninsula is located in South Wales. It projects westwards into the Bristol Channel and is the most westerly part of the historic county of Glamorgan. In 1956, Gower became the first area in the United Kingdom to be designated an Area of Outstanding Natural Beauty.
The view over to Worms head.
The name comes from the Norse word meaning Dragon or Serpent and you can see why.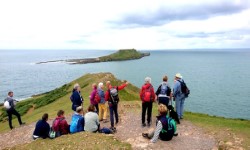 South Wales has some of the most spectacular attractions in the UK. These include the Brecon Beacons National park, Cardiff Bay, Ystradfellte waterfalls, Dan yr ogof caves, the Wales Coastal path, Tenby and many more.
Wales is steeped in heritage, history and mythology, much of which is based on early manuscripts from the 11th and 12th centuries. These manuscripts came to general prominence in the 19th century when lady Charlotte Guest published her translation of these medieval folk tales under the title of "The Mabinogion" meaning 'tales of youth'. The Mabinogion details a heroic age or mythological past in the British Isles through four parts or branches.
Areas to visit in Gower
Wild moorland, limestone cliffs and golden beaches are all in abundance.
The Gower is an AONB and has numerous caves along its coastline. Many of these caves hide secrets from the past including dinosaur bones, ancient artefacts and the famous "Red Lady" a Palaeolithic era skeleton found in 1823.
There are hidden gorges around the little village of Kittle and King Arthurs stone on Cefn Bryn.
Mumbles, one of the many stomping grounds of Dylan Thomas with its Victorian pier and Oystermouth Castle are a must for any visit.